ALIVE! Core Skills Monthly Salado Meetup
---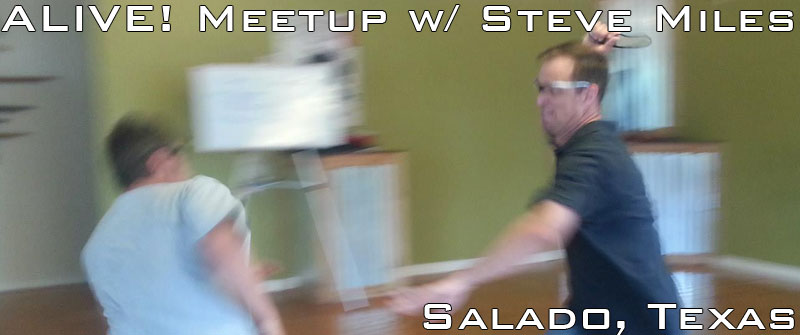 ALIVE! Training Meetup - Every 1st Saturday
ALIVE! prioritizes the use of weapons for personal defense using a contextual training methodology that builds skill fast. ALIVE! is a comprehensive system that uses a single set of actions for close range gunfighting, knife, and empty hands defense.
Saturday training core skills meetups will be held once a month on the first Saturday of ever month. Classes will be intense but well-paced and provide you with take-home training goals for you to work in-between meetups. Because we will train with a spiral curriculum you can miss a month and return the next without missing essential instruction. If you will commit to learning ALIVE! we are committed to you.
Location: Salado Martial Arts Salado, Texas.
Date: Every 1st Saturday of the Month
Time: 1pm – 5pm
Cost: $40
Required Equipment: Dummy/Rubber Pistol, Shooting-type eye protection

---
Register
---
ALIVE! Training with Steve Miles - Every 1st Saturday
Click Here to Register
For more information visit our Facebook Event Page or Contact us!
---
Check out more of our awesome upcoming events:
Upcoming events
You can also subscribe to our Newsletter:
---
Combatives Newsletter
---
You can also subscribe to our newsletter for free information, discounts, upcoming events and more!
Have a Question?
If you are unsure what class or training course is better for you or would like to discuss the perfect day for it, email us.
Send us a letter