Knife Fighting 101
---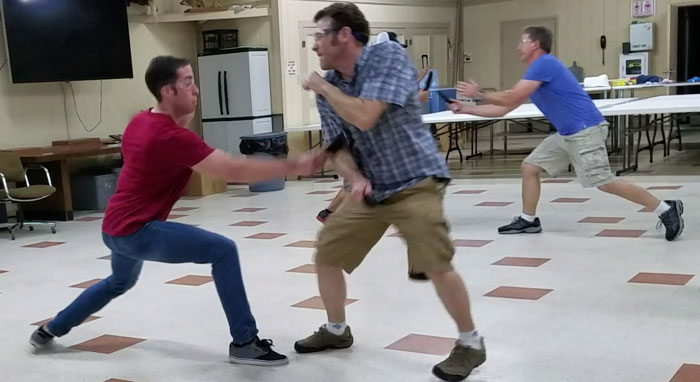 Mansfield, Texas.
November 12th 2017
10am – 1pm
$30
Now that you have drawn your knife, and the knife wielding bad guy does not run away, what do you do next?
In this month's workshop we will continue to cover more simple-to-learn knife on knife self-defense skills! For this class, we will be working more on pressured based knife attacks, quartering, and disarms. Learn just what it takes to prevail in a knife on knife encounter. This class will provide valuable feedback on just where your skills and gear are now and where they can improve.
BEGINNERS AND EXPERIENCED WELCOMED!
We will provide training knives and other safety gear.
Attendees must bring:
-Street clothes and soft shoes, no boots.
-Snacks
---
Register
---

---
Knife Fighting 101 - Mansfield - November 12th 2017
---
You may pay online upon clicking on the ticket link for the class, please contact us if you wish to pay the day of class.
Location: Mansfield, Texas.
Date: November 12th 2017
Time: 10am – 1pm
Cost: $30

Next event will be in January!
There will be a limited space so you must be registered in order to participate! Facebook and Meetup will not count!
After you register you will be emailed location information.
For more information visit our Facebook Event Page or Contact us!
---
Check out more of our awesome upcoming events:
Upcoming events
You can also subscribe to our Newsletter:
---
Combatives Newsletter
---
You can also subscribe to our newsletter for free information, discounts, upcoming events and more!