Tactical Emergency Casualty Care w/ Force on Force
---

Tactical Emergency Casualty Care w/ Force on Force - Salado Tx
Salado, Texas.
November 10th & 11th 2018
9am – 5pm
$150
When trauma happens it must be addressed immediately. Will you know what to do?
Now, what if the fight was still going?
In this two-day class we will be covering the essentials of treating trauma related injuries in a possibly hostile environment. Modified from the militaries' Tactical Casualty Combat Care (TCCC) curriculum to fit the federal and civilian medical responders, Tactical Emergency Combat Care (TECC) is designed especially for the non-military environment.
This course is a MUST for anyone who takes responsible personal defense seriously.
Curriculum will include C-TECC REC certificate along with ECSI CPR and AED certificates.
- Care under Direct Threat (DT), care that is rendered in a hostile environment
- Care under Indirect Threat (IDT), care that is rendered in a potentially suppressed environment
- Evacuation (Evac), care for evacuation
- Approach and triage
- Tourniquets
- Hemostatics such as QuickClot
- Pressure bandages
- Chest seals
- Chest decompression
- Tension pneumothorax
- Mass Casualty
- Active Shooters
- Trauma Kit Setup
- and more!
Training will be presented by Nationally and State Certified EMT, NAEMT Bleeding Control (B-Con), Emergency Care and Safety Institute (ECSI) certified instructor, and C-TECC Recognized Education Partner Robert Klenka.
This course will be instructed in accordance with the Principles of Guidelines Instruction set by the Committee for Tactical Emergency Casualty Care.
This will be a very hands-on course with all students performing multiple iterations of each training task. Training will culminate with live-action Force-on-Force scenario work in the shoothouse using airsoft pistols (provided).
---
Register
---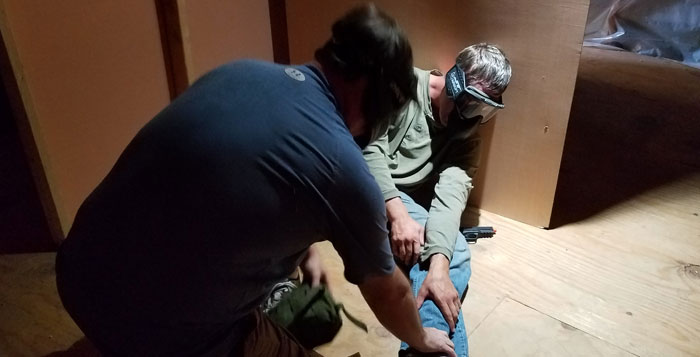 ---
---
Check out more of our awesome upcoming events:
Upcoming events
You can also subscribe to our Newsletter:
---
Combatives Newsletter
---
You can also subscribe to our newsletter for free information, discounts, upcoming events and more!
Have a Question?
If you are unsure what class or training course is better for you or would like to discuss the perfect day for it, email us.
Send us a letter