Medical Trauma First Aid
---

Mansfield, Texas.
November 17th 2018
10am – 5pm
$75
When trauma happens it must be addressed immediately. Will you know what to do?
In this class we will be covering the essentials of treating trauma related injuries. This course will be focused primarily on penetrative trauma such as gunshots and knife wounds, blunt force trauma will be covered as well. This course is a MUST for anyone who spends anytime around firearms!
Curricullum will include NAEMT Blood Control (B-Con) certificate along with ECSI CPR and AED certificates. B-Con is the civilian equivalent of the TCCC course.
- First Aid
- Approach and triage
- Tourniquets
- Hemostatics such as QuickClot
- Pressure bandages
- Chest seals
- Chest decompression
- Tension pneumothorax
- Trauma Kit Setup
- and more!
Training will be presented by National and Texas State registered EMT, NAEMT Bleeding Control (B-Con), and Emergency Care and Safety Institute (ECSI) certified instructor Robert Klenka.
---
Register
---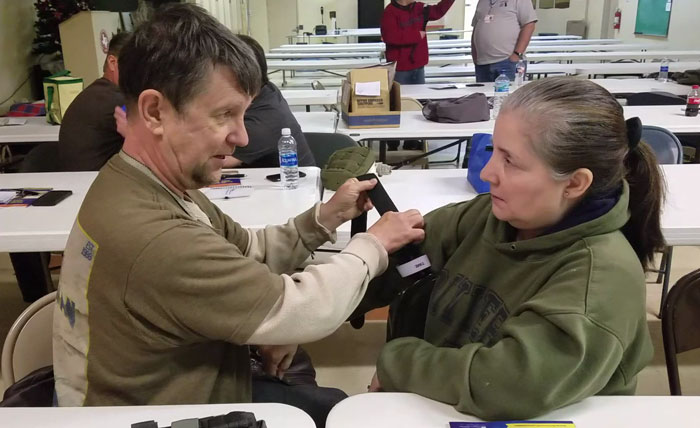 ---
Trauma Medical - Mansfield - November 17th 2018
---
Location: Mansfield, Texas.
Date: November 17th 2018
Time: 10am – 5pm
Cost: $75

Trauma Medical - Mansfield - November 17th 2018
Mansfield, Texas, 10:00AM
For those who want to use Paypal
Register with PayPal

For those who do not want to use PayPal:
You can register using our secure form below which will send you to our secured checkout using eProcessingNetwork (NRA approved!).
There will be a limited space so you must be registered in order to participate! Facebook and Meetup will not count!
After you register you will be emailed location information.
For more information visit our Facebook Event Page or Contact us!
---
Check out more of our awesome upcoming events:
Upcoming events
You can also subscribe to our Newsletter:
---
Combatives Newsletter
---
You can also subscribe to our newsletter for free information, discounts, upcoming events and more!