Defensive Firearms Courses
---

All of the courses below are Non-NRA courses and does NOT include any sort of certificate.
---
Basic Firearms Courses
---

MOST RECOMMENDED FOR BEGINNERS
This firearms course is much more laid back and a less formal class compared to the National Rifle Association NRA courses. Think of it as more of a advised trip to the range than a formal class. We will go over safe firearm handling and usage. Also most of our time will be spent shooting than in a classroom discussing. The level of instruction will be based off of the experience and skill of the students. It could be as simple trip to the range or something much more in depth. Accessing, movement, barricades, and the like are general not covered. You do not get a certificate for this "course" but if we end up at a match you might win an award. Generally ages 10 and up.
This class is what we recommend most of our new students do. It could be as cheap as a box of ammo and its over all more laid back, can be a private or group class and much less formal than the NRA courses.
---
Defensive Firearms Courses
---

This course is not as laid back and informal as the basic course but it takes the ideas presented in it and takes it to the next level. Here we will work on the importance of:
"Stable" shooting platform
Movement
Level changes
Cover and concealment
Accessing and presenting
Ambidexterity
Reloading
Malfunctions
Transitions
And more
---
Force on Force
---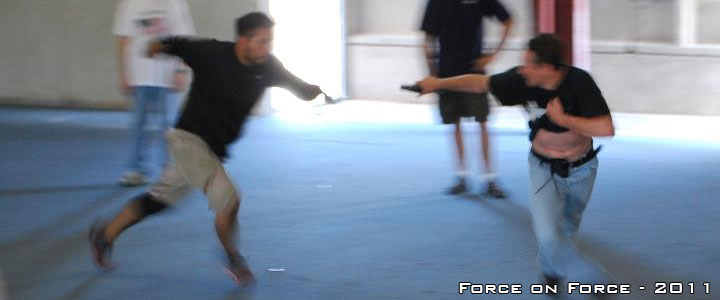 Force on Force is generally the oppositional use of airsoft firearms. Force on Force is one of the greatest training tools for firearm combatives. So if your not doing force on force of any kind then you are just fooling yourself. Force on force allows you to train and practice drills that include:
Tueller Drill
Getting off the X
Stand and 'Deliver
Movement
Accessing and presenting
Scenarios
Close Quarters Battle (CQB)
3rd party protection
Vehicles
Transitions
And more
We do short "Intro" courses of about 3-4 hours, to full weekend courses. The type of training you can do with FoF is limitless. Here are some of the Force on Force courses we offer:
Intro to Force on Force
Force on Force CQB
Low Light Force on Force
Force on Force 3rd Party Protection
Scenario based Force on Force
Vehicle based Force on Force
And more
---
Upcoming FWC Courses
---
---
Combatives Newsletter
---
You can also subscribe to our newsletter for free information, discounts, upcoming events and more!