Medical Trauma First Aid
---

Looking to host a Stop The Bleed / Trauma event for your group, business, church, and organization? The Click Here!
---
Civilian Trauma Medical - Stop The Bleed
---
September 16th 2023
9am – 5pm
Fort Worth, Texas.
Scroll Down to Register!

---
October 14th 2023
9am – 5pm
Fort Worth, Texas.
Scroll Down to Register!

---
November 11th 2023
9am – 5pm
Fort Worth, Texas.
Scroll Down to Register!

---
December 9th 2023
9am – 5pm
Fort Worth, Texas.
Scroll Down to Register!

---
When trauma happens it must be addressed immediately. Will you know what to do?
In this hands on one day 8-hour class, more officially called: Tactical Emergency Casualty Care: Active Bystander, we will be covering the essentials of treating trauma related injuries. While this course will be focused primarily on penetrative trauma such as gunshots and knife wounds, blunt force trauma will be covered as well. This course is a MUST for anyone who spends anytime around firearms!
Curriculum will include, C-TECC - Active Bystander, American College of Surgeons - Stop The Bleed (B-Con) certificate along with Emergency Care and Safety Institute CPR and AED certificates. Note: Does not include First Aid certification, which can be included upon request for a extra fee and extra time.
In this course you will get hands on instruction in:
First Aid
Approach and Triage
Tourniquets
Hemostatics such as QuikClot
Pressure Bandages
Chest Seals
Tension Pneumothorax
Trauma Kit Setup
and more!
Training will be presented by Nationally and State Certified EMT, Texas License to Carry for First Responders Instructor, Bleeding Control (B-Con), Emergency Care and Safety Institute (ECSI) certified instructor, Tactical Medical Solutions® Associate Trainer, Texas State Certified SWAT Medic graduate, Personal Protection Officer, and C-TECC Recognized Education Partner Robert Klenka.
Though this course will be held following the C-TECC TECC Active Bystander guidelines by a C-TECC recognized and registered C-TECC Educational Partner. This is not the CAPCE NAEMT TECC course. If you are wanting to use this course for NREMT Continuing Education Credit. You must enter the hours in manually, and though we have not heard of them being rejected, we make no guarantees that they will be accepted. More information can be found here: https://www.c-tecc.org/about/faq and here: https://www.naemt.org/education/tecc
---
Register
---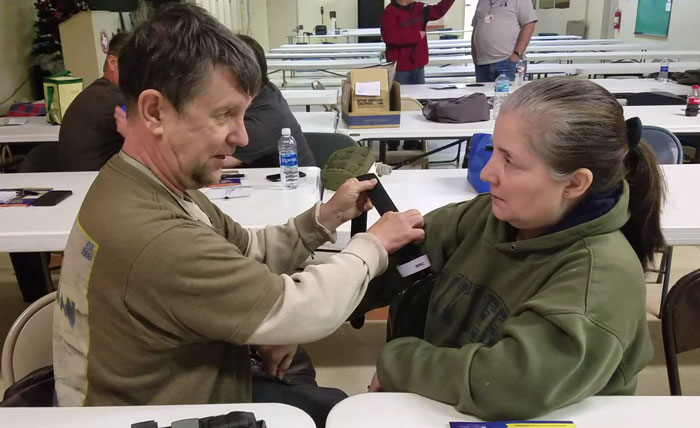 ---
Trauma Medical - Fort Worth
---
Location: Fort Worth, Texas.
Date: September 16th 2023
Date: October 14th 2023
Date: November 11th 2023
Date: December 9th 2023
Time: 9am – 5pm
Cost: $125

Fort Worth, Texas, 9:00AM


TEXAS DEFENSE ACADEMY
4011 Benbrook Hwy ste E-F
Fort Worth, TX 76116
For those who want to use Paypal

For those who do not want to use PayPal:
You can register using our secure form below which will send you to our secured checkout using eProcessingNetwork
(NRA approved!).
Cancellation/Refund Policy: you can transfer your registration to a different available date at any time, refunds are available up to the seven (7) days before the event date. If you miss the time frame, you can not transfer to another month to then ask for a refund.
There will be a limited space so you must be registered in order to participate! Facebook and Meetup will not count!
---
Want to Host a Seminar?
---

Let us come to you! If you a business, range, school, church, group, or anything of the sort, we will gladly come to you! Our most popular events to host our are one day Stop The Bleed course, our 8-hour Civilian Trauma Medical course, and our 3-hour Women's Personal Defense Workshop class.
Contact us for more information!
---
Check out more of our awesome upcoming events:
Upcoming events
You can also subscribe to our Newsletter:
---
Combatives Newsletter
---
You can also subscribe to our newsletter for free information, discounts, upcoming events and more!
Have a Question?
If you are unsure what class or training course is better for you or would like to discuss the perfect day for it, email us.
Send us a letter