ALIVE! Rifle Gunfighting 101
---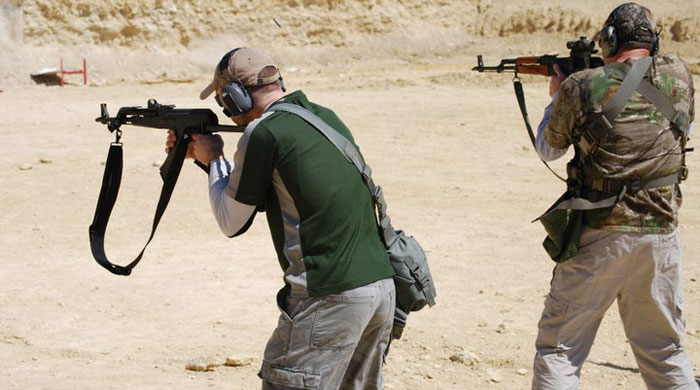 ALIVE! Rifle Gunfighting 101 - Waco Tx
Waco, TX
September 16, 2017
9am-5pm
You know how to "operate" your rifle, but do you know how to fight with it?

At this course students will be immersed in the "fighting" context of a rifle gunfight. Using both live-fire and airsoft Force-on-Force drills students will put their skills and gear to the test in:
Reactive Gunfight
CQB Cornering
Opposed Open Engagements (<100m)
Rifle Retention and Struggles
In and Around Vehicles
360 Degree Engagements
Students will be instructed in ALIVE!™ solutions to these rifle gunfighting situations and then retested in a challenging culminating event. This well-paced and challenging training will significantly expand your ability to prevail in the gunfight.
As always, ALIVE!™ training will be focused on gunfighting, not just "shooting". Airsoft, paintballs, and/or other methods will be used to ensure training is properly pressurized, resistant opponents will be used where appropriate.
Training will be led by Steve Miles. Steve is a full-time combatives instructor, retired soldier, and combat veteran. He founded the ALIVE!™ system in 2012 and co-founded the Central Texas Combatives Training Group in 2009.
Prerequisites
Possess functional and safe rifle operation skills, to include magazine changes and malfunction clearance.
Hold a Plank Knuckle Pushup for one minute. It's shown pretty well here: https://www.youtube.com/watch?v=dKAVni-_rWc
Starting from lying flat on your back holding your rifle, get up to standing without touching the ground with your hands, arms, or rifle.
Gunfighting is a fight, and fighting is physical, so here's the deal: everyone will be asked to demonstrate Prerequisites 2 and 3 ("Plank 1-min" and "Get up to Standing") Saturday morning before training begins. One attempt, no do-overs, no alibis, no refunds and no hard feelings. Really, you can do this stuff. If you need coaching between now and the seminar it's available at no cost (live or via Skype/FaceTime).
Bring:

Rifle with 4 mags and 300 rds
Magazine Carrier/Vest/Rig/etc, some way of carrying at least three rifle mags.
Tourniquet (will be used for training purposes)
Eye/Ear protection for range
Knee pads, sunscreen, hat, rain gear, and other protective gear as your body might require.
Lunch
Cost: Just $150 for 8-hours of superb training.
This event will be limited to just eight students.
Location: Waco, Texas.
Date: Saturday, September 16, 2017
Time: 9am – 5pm
Cost: $150

ALIVE! Rifle Gunfighting 101 - September 16th 2017
This course is being hosted by the Central Texas Combatives Training Group.
You will need to use their registration form: REGISTER HERE
For any updates or changed visit the Facebook Event Page or Contact us!
---
Check out more of our awesome upcoming events:
Upcoming events
You can also subscribe to our Newsletter:
---
Combatives Newsletter
---
You can also subscribe to our newsletter for free information, discounts, upcoming events and more!
Have a Question?
If you are unsure what class or training course is better for you or would like to discuss the perfect day for it, email us.
Send us a letter